---
---
FASTEST WAY TO GET RID OF DIRT🧤🥄🍽️
Our Silicone Cleaning Gloves are designed to give you an amazing cleaning experience. Silicone bristles embedded into the gloves make the irritating task of cleaning hassle-free. Cleaning just got a lot easier.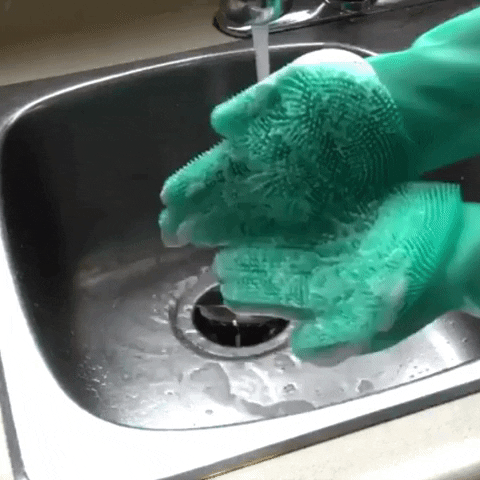 HEAT RESISTANT: These are comfortable to wear even under high temperatures.
SANITIZE & REUSE: These can be cleaned with warm water. These replace washing scrubs/sponges.
NON-SLIP AND ANTI-BACTERIAL: These functional anti-bacterial gloves are gentle on the skin and provide a firm grip. 
MULTI-PURPOSE:  These multi-functional gloves are also used to clean sink, stovetops, pots, vegetables, fruits, and more.
CLEAN HARD-TO-REACH AREAS: Unlike traditional brushes and sponges, you can clean hard-to-reach areas more effectively thanks to the magic of your fingers and hundreds of silicon bristles. These are used with any soap or liquid of your choice.
DURABLE: These come with a convenient hook for easy storage. Strong against acids, detergents, soaps that typically wear out other gloves.
1 Pack includes 2 gloves (left and right)
Click "Add To Cart" Above To Order Now!
🔥Not Sold In Stores - Online Exclusive!
⚡️Limited Stock Available - Will Sell Out Fast!
---