---
---
Our Activated Charcoal Powder is an alternative for your entire family to promote healthy teeth and gums without toxic ingredients. It doesn't contain any synthetic additives, preservatives, fluoride, artificial colors or flavors, and no foaming agents or abrasive salts. It is uniquely formulated to clean and safely polish teeth, improve gum health and freshen breath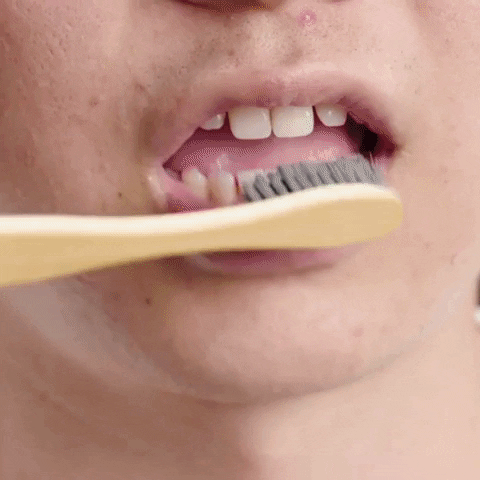 ★ ORGANIC ACTIVATED CHARCOAL - Fine black powder, it can be used as a toothpaste replacement OR in addition to your toothpaste, helping your teeth and gum stay healthy. Gently brush your teeth with our activated charcoal daily for 30 days to ensure the best results.
    ★ SAFE ON SENSITIVE TEETH - It's specially formulated to ensure even the most delicate teeth won't suffer. Our unique blend of ingredients works hard to restore your best smile, while safely removes coffee stains, detoxify your mouth, Fights cavities, plaque, bacteria, gingivitis, and preventing tooth decay
Here's why you will love this:-
100% NATURAL INGREDIENTS: Bamboo Charcoal extract Essence, Glycerol, deionized water, CaCo3.
ALL-PURPOSE: Removes dental stains, whitening teeth, killing oral inflammation, treating oral ulcers and bleeding gums, and keeping all common oral diseases at bay.
FRESH BREATH: How about a fresh breath all day long? This product makes your teeth sparkling white and gives you a fresh breath that improves your public confidence all-day long.
BAMBOO TOOTHBRUSH:
GOOD FOR THE EARTH: Keep all those plastic toothbrushes out of the oceans and landfills. These bamboo toothbrushes are a great way to help keep the earth green.
ERGONOMIC HANDLE: Deep Cleaning Bristle Shape, Aesthetic Design.
PERFECT AS A PERSONAL TOOTHBRUSH: Guest Bathroom Toothbrush, Travel toothbrush & Camping Toothbrush -- Use with your favorite bamboo charcoal brushing powder.
DIRECTIONS TO USE- With a small spoon, or a pinch of your fingers, apply a small amount of powder to the palm of your hand. Apply a moist toothbrush, and brush for two minutes. Afterward, brush again to remove the remaining powder from teeth (using water or your normal toothpaste).
PACKAGE INCLUDES:
    1 X Jar of Charcoal Teeth Whitening Powder.

    1 X  Bamboo Tooth Brush(O

ptional

).
Tap "Add To Cart" Above. Limited Stock Available!
🔥 Not Sold In Stores - Online Exclusive!
🚚 7-10 DAYS FAST DELIVERY! 
⚡️ Limited Stock Available - Will Sell Out Fast!
🤑 30-Day Money-Back Guarantee!
---